In Marathon, we await April with baited breath

Sailfish migration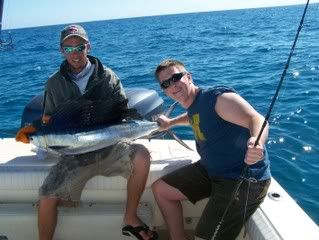 April heralds the beginning of a large migration of sailfish heading west for their annual spawn.  Thousands of fish pour through the Florida Straits into the Gulf of Mexico and the fishing is red hot.  It is common to see 20 or 25 fish in a day, and double-digit catches are the norm. 
These fish tend not to be very particular about the baits they eat, but there's a certain selection best to have on hand.  Live bait such as ballyhoo, pilchards, small bluerunners, goggle eyes, cigar minnows and threadfin herring are the top choices.  If you can't find or don't know how to acquire these, trolling rigged naked ballyhoo will often serve you well.
The sailfish can be taken anywhere from as shallow as 30 to 40 feet out to as deep as 400 feet.  It all depends on where the current break is residing.  You can determine the location by looking for a color change where the water goes from a cloudy blue to a dark blue or from a grayish blue to purple.  Quite often, there will be a collection of weeds or debris right at the current seam.  Once you locate the line, you have your choice of drifting and waiting for the sailfish to come to you or running up and down the line looking for the fish.
Dolphin too
Regardless of the sailfishing technique you deploy, you may also encounter a dolphin or cobia during your pursuit.  It always pays to be prepared with a pitch bait at the ready for just such an encounter.
The dolphin run kicks into high gear in April.  While you may not see huge numbers of fish, the ones you do find tend to tip the hefty end of the scale.  During this early part of dolphin season, typical catches include lots of 10- to 20-pound fish with plenty of fish over 40 pounds as a bonus.
Some Captains like to troll lures in search of the dolphin, but I prefer the run-and-gun approach.  I find it much more exciting to cruise and look for diving birds and speed to the area they're working.  Pitch either a rigged ballyhoo or a live bait such, as a pinfish, at or under the bird and game on!
Reef renewal

As the days lengthen and the water warms, the yellowtail snapper will become increasingly active on the reef.  These fish are beginning to congregate for their spawn, and there will be loads of large flags for the taking.
We typically find the 'tails on the deeper edge of the reef in the 70- to 100-foot depths off Marathon.  Copious quantities of chum and a wide variety of baits will produce envious catches of these tasty snappers.
Nice size mutton snapper will be lingering in the same areas.  A fresh ballyhoo or sardine drifted back in the slick and 20-pound tackle will often elicit a bite from these pink delights.
Action to the north of the islands of Marathon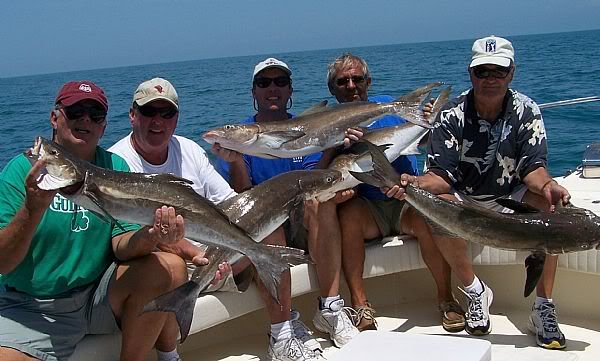 With this year's crazy weather and cool temperatures, the cobia run may come a little later in April than normal, but you can still count on it.  Wrecks anywhere from 10 to 40 miles out should hold good numbers of the brown bombers.  Just about any live offering is bound to provide an instant strike.
Mixed with the cobes will be some rather large kingfish which will also be migrating their way north.  Use the same tackle as you would for the cobia, but add a short trace of wire to prevent the kings from using their razor sharp teeth to escape the fish box.
Toward the end of the month, you may even find some permit on the same wrecks.  Carry a couple of crabs to entice these wary game fish for the fight of a lifetime.
Shallow water angling for sharks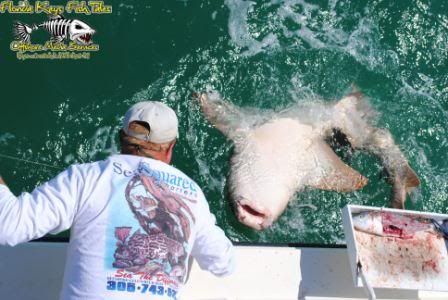 Last, but by no means least, the poor man's big game fishing.  Catch-and-release shark fishing.  The juxtaposition of calm, shallow waters and frenzied fishing makes sharking an extraordinary experience for anglers of all ages and abilities.  Because it takes place in waters less than ten feet deep in protected Gulf areas away from the motion of the ocean, shallow water angling for sharks is well suited for anyone prone to seasickness. 
The fishing, however, is anything but calm. 
Here in Marathon, we primarily target lemon, blacktip, spinner and bull sharks, which range in length from three to eight feet.  On occasion, we encounter larger species, including tiger and hammerhead, which can attain lengths upwards of fifteen feet and more.  Regardless of size, all are endowed with the power to provide quite a thrill for the angler.  Shark fishing is truly an everyman's sport.  You don't need a big boat or expensive equipment.  It provides all the excitement of big game sport fishing at a fraction of the cost.
Tarpon treasure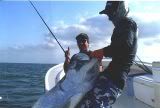 Hammerhead and bull sharks are attracted to the large amount of tarpon that show at the bridges of the Middle Keys.   
Although we have a year-round tarpon fishery, like the taxman, you can count on the largest of the species to arrive mid-April.  Few sport fish elicit the excitement of the Atlantic tarpon that move through Marathon each spring.  Anglers from around the world flock to our waters to wage battle with the Silver King.  Their powerful acrobatics, massive size and sparkling beauty provide hours of angling entertainment.
Most of the tarpon average 80 to 130 pounds, with several over 150 pounds taken every year.  The preferred bait is mullet.  If you can't get mullet, live pinfish or large blue crabs will do to the trick.  Courtesy is paramount as this is very popular pastime and there will be many boats in the evenings and early mornings.
Any of the tactics described here can be accomplished on your own but we recommend hiring a charter captain with the experience and professional-grade tackle to provide you with a memorable and successful fishing adventure.  Good luck and tight lines!